Insights on Managing Your Supply Chain Well in 2019
An Interview with Tracy Rosser and Don Daseke
Hear tips from two leaders in the supply chain industry about how you can manage your operations well and improve relations with carriers.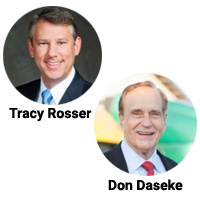 In this interview, moderated by TranzAct's Co-Founder Mike Regan, they cover questions such as:
Why is there a capacity shortage?

What does a shipper of choice look like?

How do they react to competition?
They tackle all this and much more in their interview.
* We never rent, sell, or otherwise share your information with anyone outside of TranzAct.