INDUSTRY STUDY
Logistics 2030: Navigating a Disruptive Decade
The year 2030 is coming soon, and supply chain professionals are in for lots challenges and rapid change. That's why we sponsored this new report which we're providing exclusively for shippers.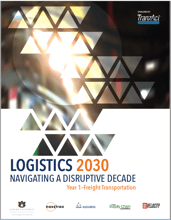 A team of experts that includes Auburn University's Center for Supply Chain Innovation and the Council of Supply Chain Management Professionals (CSCMP), has undertaken a multi-year study of issues impacting transportation and logistics.
Our obvious first choice for study was transportation management, specifically, as the function exists within the shipper community. We collected expert insights on future transportation issues via a survey, focus groups, and individual interviews. The resulting information is contained in this report.