Transportation Marketplace Insights from Mike Regan

Mike Regan, the Co-Founder of TranzAct, is frequently speaking at conferences and quoted in the news. Below are some examples of where he's spoken or provided commentary. If you're interested in getting in touch with him, please send us an email.
VIDEOS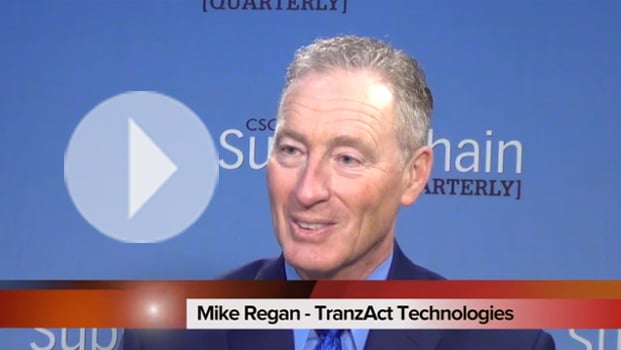 Trucking's Perfect Storm highlighted why shippers need to manage from the inside out
Mike Regan, co-founder and chief of relationship development at TranzAct Technologies, an authoritative voice in logistics and supply chain, joins us from CSCMP's 2019 annual conference to discuss the issues that are shaping the industry's future.

To see more videos with Mike Regan, watch his weekly Two Minute Warning video series.
INTERVIEWS
Mike Regan regularly conducts interviews with leaders in the supply chain industry such as the CEO of CSCMP, Rick Blasgen, and John Larkin, the Managing Director of Stifel's Logistics Research Group. To hear these interviews, take a look at our On the Record series.


NEWS ARTICLES
'A good living but a rough life': trucker shortage holds US economy back
FINANCIAL TIMES
The Miracle Mile in Carlisle, Pennsylvania, is a vital capillary in the US freight transport system. Linking interstate highway 81 to the Pennsylvania Turnpike, the road is just an overnight drive away from half the country's population. Thousands of trucks shuttle along it daily carrying everything from lumber to fizzy drinks. Their drivers are well served. Three truck stops offer showers, burgers, video games and diesel fuel. Stores sell...

LTL market is solid but shippers need to watch out for freight 'turndowns'
When assessing the current state of the less-than-truckload (LTL) market, it is not hard to see that there are a lot of things working in its favor, whether it be favorable pricing levels, especially compared to the same period a year ago, as well as an increase in freight activity towards the end of the first half of the year, too...
Carriers, Shippers Working to Meet Demand for Freight Hauling
TRANSPORT TOPICS
Carriers and shippers are adjusting to an environment where rising freight rates and a driver shortage are bumping up against an expected drop in capacity now that soft enforcement for truck drivers to record their on-duty status using electronic logging devices has ended, compelling the industry to work hard to prevent disruption in the movement of goods.
12 Steps to Become a US Truck Shipper of Choice
JOURNAL OF COMMERCE
US truckload carriers warned shippers that 2018 would be a difficult year to find available trucks, a predictions that has come to fruition as supply, in the form of tractor-trailers and drivers, has become scarce and is not nearly enough to haul all the freight on the market ...
Trucking Acquisitions Put New Spotlight on Fleet Values
WALL STREET JOURNAL
Trucking companies newly flush with cash are stepping up strategies to grow through acquisitions, but they're finding new challenges in financial reporting along the road. Earlier this month, Iowa-based trucker Heartland Express Inc. dismissed its auditing firm of 16 years ...
Supply Chain Thought Leadership Video Series: The Transportation Frankenstorm to Worsen - What Shippers Can Do Now
SUPPLY CHAIN DIGEST
Select your term of choice: Is it a transportation perfect storm, or as some are now starting to call it a "Frankenstorm?" Whatever your pick, times are indeed tough these days for shippers, with rates soaring and capacity tight. But Mike Regan of TranzAct Technologies - who predicted ...
LM reader survey finds impact of ELD mandate on trucking sector has been a bumpy ride
LOGISTICS MANAGEMENT
Mike Regan,Chief Relationship Officer for TranzAct Technologies, pulled no punches when how the ELD mandate has affected the trucking market. "The impact of the ELD mandate so far is every bit as consequential as people thought it would be, and the impact to date as people get ...
Forget the Perfect Storm…This Is Looking Like A Full-Fledged Frankenstorm!
LOGISTICS MANAGEMENT
I began to refer to what was coming down the pike in the transportation marketplace as "The Perfect Storm" in early 2017. But I've realized that term may have become so common now that we've lost perspective on what's really happening. So, realistically, a better word for our current ...
When it comes to trucking market conditions, change is in the air
LOGISTICS MANAGEMENT
The saying "change is in the air" has a bit of an old school feel to it in some ways. It could be in reference to many things, of course, but in this instance it could be edited just a tiny bit to "change is here." The changes I am referring to you are neither sudden, nor unexpected, and they related to ...
The Gurus Are Back! 2018 Supply Chain Predictions
DC VELOCITY
We're back as we have done for many years running with predictions for the year 2018 in supply from a virtual panel of supply chain gurus. In fact, most of our prognosticators are back from 2017, selected again for this great honor - well, something of an honor - because in the past they ...
7 SUPPLY CHAIN CHALLENGES IN 2018
BOSS MAGAZINE
The supply chain industry has its share of challenges to overcome. When you think of all the logistic and procurement needs for even one big company, like Amazon or Walmart for instance, you can only begin to grasp how difficult coordination must be. Made of many different moving parts, the goal is ...